*JOIN IN THE MAKING OF A MASQUERADE SING-ALONG*








CALLING ALL PHANTOM FANS!

To celebrate 25 years of Andrew Lloyd Webber's "Phantom of the Opera" stage musical, I want to put together a sing-along video, and I want all of you to participate. All I can say is that the video will hopefully contain some surprises, and the more people participating, the better. Ideally there'll be one entry for each line of the song of choice - Masquerade.

Be creative! Gather a group of friends and be a "flash mob" in the nearest grand staircase. Or on the subway. Dress up in Phantom costume replicas, or in a funky general Masquerade costume. Two Christines fighting over one Raoul? Drunk Madame Giry? Maybe it's time for a new Barbie and Ken version. Or maybe a nod to Leroux by adding the black and white dominos. Maybe you're heading for Palais Garnier this summer? Or a theatre where Phantom is playing/has played?

What about "Masquerading" in front of your Phantom collection? Or have your grandfather dance! Or maybe a full scale replica of Bjørnson's costumes and Lynne's choreography? Masquerade - the tap dance version - or just goofing in front of you web cam? What about filming your hands while playing the piano or another instrument? The idea is not to make a music video The Really Useful Group could have made themselves. This video is phans and others joining creative forces to make a fun video. You don't need a costume to participate. It can be with your web cam. And one line will to. But feel free to add more.

Do your own twist on the lyrics. Think of the various lines of the song:

Paper faces on parade
Every face a different shade
Flash of mauve
Green and black
Queen and priest
Merry-go-round
Eye of gold
Thigh of blue
Swirl of gown
Face of clown
Drink it in, drink it up
Grinning yellows
Spinning red
Sea of smiles
Leering satyrs
Seething shadows
Six months
New chandelier
Future bride

Be creative, be naughty, be classy, be original, be authentic - have fun. You can of course film the whole song, but only a line or five of each entry will be used for the finished result. You can choose to sing yourself, or use a backing track, or both. Preferably it should be the Original London Cast, so rhythm and lyrics are consistent, but I'd take creativity over strict rules any day.

The song will not include "Why so silent", but it'll feature the arrival of Red Death. A Red Death video has now been entered!

Ideally the video clip should be uploaded to YouTube as a private video, and a "secret" link sent to me. Another option is to send it by email - if it's short - or snail mail. I work on a Mac, and prefer mp4 formate, but I can convert most files.

Deadline for sending me the video is September 15, 2011. So you have the summer to come up with something amusing/beautiful/naughty/authentic/fantastic. But feel free to send it as soon as you have filmed it - the earlier I get it, the easier it'll be to edit it together. Please include what name you want to be credited as on the screen, and your location. You can contact me at:

operafantomet (at) hotmail (dot) com

So what's in it for you? Apart from participating in a fun video celebrating a beloved musical? Apart from glory and honour? Aaah, here comes the fun part. After the video is put together and has been online for some time, people will be able to vote on the top 3 entries. They will all be awarded with cool Phantom costume items, closely modeled after original pieces. Some of the items you can win: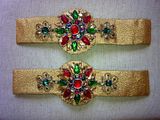 Sparkly Hannibal slavegirl wristbands, a close replica of those used in Hamburg.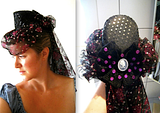 Meg Giry's snazzy Masquerade hat.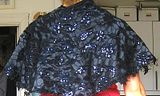 Madame Giry's glittering Masquerade cape (in progress)



So if you wanna win - or if you just wanna participate in a fun project, or share your love for Phantom, or show off one of your costumes, or is a former cast or crew member who likes to interact with phans:
Get your paper faces on parade and.... Masquerade!



CONTRIBUTIONS SO FAR INCLUDE:
*A beatbox video for much of the instrumental part in the middle
*The Hula girl!
*"...but who cam name the face?" (a picture contribution, but a cool one)
*"....to a prosperous year, to the new chandelier"
*Two Phantoms dancing in an elevator
*Drunk Aminta
*And we have our "Red Death"!




THE LYRICS (lines in bold are taken):




(The gauze lifts fully to reveal the staircase of the opera house. The opera ball begins. Among the GUESTS are four carrying strange percussion instruments: a monkey with cymbals, a toy soldier with a drum, a triangle, bells. Together they play weirdly throughout)


CHORUS
Masquerade! Paper faces on parade . . . Masquerade!
Hide your face, so the world will never find you!
Masquerade! Every face a different shade . . . Masquerade!
Look around - there's another mask behind you!
Flash of mauve . . . Splash of puce . . .
Fool and king . . . Ghoul and goose . . .
Green and black . . . Queen and priest . . .
Trace of rouge . . . Face of beast . . .
Faces . . . Take your turn, take a ride on the merry-go-round . . . in an inhuman race . . .
Eye of gold . . . Thigh of blue . . .
True is false . . . Who is who . . .?
Curl of lip . . . Swirl of gown . . .
Ace of hearts . . . Face of clown . . .
Faces . . . Drink it in, drink it up, till you've drowned in the light . . . in the sound . . .

RAOUL/CHRISTINE
But who can name the face . . .?

ALL
Masquerade! Grinning yellows, spinning reds . . . Masquerade!
Take your fill - let the spectacle astound you!
Masquerade! Burning glances, turning heads . . . Masquerade!
Stop and stare at the sea of smiles around you!
Masquerade! Seething shadows breathing lies . . . Masquerade!
You can fool any friend who ever knew you!
Masquerade! Leering satyrs, peering eyes . . . Masquerade!
Run and hide - but a face will still pursue you!


(The ENSEMBLE activity becomes background, as ANDRE, FIRMIN, MEG, GIRY, PIANGI and CARLOTTA come to the fore, glasses in hand)

GIRY
What a night

MEG
What a crowd!

ANDRE
Makes you glad!

FIRMIN
Makes you proud!
All the creme de la creme!

CARLOTTA
Watching us watching them!

MEG/GlRY
And all our fears are in the past!

ANDRE
Six months...

PIANGI
Of relief!

CARLOTTA
Of delight!

ANDRE/FIRMIN
Of Elysian peace!

MEG/GIRY
And we can breathe at last!

CARLOTTA
No more notes!

PIANGI
No more ghost!

GIRY
Here's a health!

ANDRE
Here's a toast: to a prosperous year!

FIRMIN
To the new chandelier!

PIANGI/CARLOTTA
And may its splendour never fade!

FIRMIN
Six months!

GIRY
What a joy!

MEG
What a change!

FIRMIN/ANDRE
What a blessed release!

ANDRE
And what a masquerade!


(They clink glasses and move off RAOUL and CHRISTINE emerge. She is admiring a new acquisition: an engagement ring from RAOUL, which she h as attached to a gold chain around her neck.)


CHRISTINE
Think of it! A secret engagement! Look - your future bride!
Just think of it!

RAOUL
But why is it secret? What have we to hide?

CHRISTINE
Please, let's not fight . . .

RAOUL
Christine, you're free!

CHRISTINE
Wait till the time is right . . .

RAOUL
When will that be? It's an engagement, not a crime!
Christine, What are you afraid of?

CHRISTINE
Let's not argue . . .

RAOUL
Let's not argue . . .

CHRISTINE
Please pretend . . .

RAOUL
I can only hope I'll . . .

CHRISTINE
You will . . .

BOTH
. . . understand in time . . .

(Dance section, in which CHRISTINE, almost coquettish almost jittery, goes from man to man. But too many of her partners seem to be replicas of the PHANTOM, and each spins her with increasing force. Eventually RAOUL rescues her and holds her tightly. He whirls her back into the dance, as the music heads towards its climax.)

ALL
Masquerade! Paper faces on parade! Masquerade!
Hide your face, so the world will never find you!
Masquerade! Every face a different shade! Masquerade!
Look around - there's another mask behind you!
Masquerade! Burning glances, turning heads . . . Masquerade!
Stop and stare at the sea of smiles around you!
Masquerade! Grinning yellows, spinning reds . . . Masquerade!
Take your fill - let the spectacle astound you


(Red Death crashes the party)


(Lyrics by Charles Hart, with additional lyrics by Richard Stilgoe)



Back to main site

Copyright © 2001-2011: Anéa (operafantomet (at) hotmail (dot) com)