THE 1770 TOILE DE JOUY ROBE
LATEST: I gave up on this one. It never... well... clicked... It was 2/3 finished, but the missing 1/3 was bad feng shui in my closet, so I gave it to the Salvation Army clothes.

THIS IS WHAT INSPIRED ME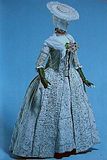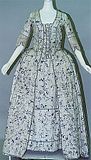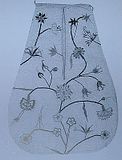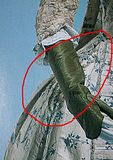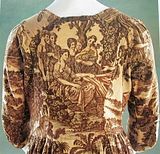 1. The Kyoto dress, with accessories, from their book
2. They Kyoto dress, from their website
3. An embroideried 1780 pocket
4. Close-up of the Kyoto dress, showing skirt opening
5. Dress from ca. 1795/1800, from Ribeiro's "The Art of Dress" book





HISTORY
I am much fascinated of a gown in the care of the Kyoto costume museum (see pictures in the gallery). I fell in love with that gown the first time I saw it, but as the 18.th century never really was my period, I never seriously considered making such an outfit. But then I fell in love with Toiles de Jouy - gorgeous printed fabrics from the French city Jouy (Riffel 2003). And my love for both the fabrics and the gown grew. And then I stumbled across a VERY suitable fabric on sale. And here I am.... :)

Usually I never use patterns (as they only confuse me...), but as I was such a newbie to 18.th century clothing I felt I needed certain guidelines. So I've used two different patterns: one of Jean Hunnisett (Hunnisett 1991), and one printed in the Kyoto "Fashion" book (Fukai 2006). The outfit is a "Robe a la Française", a dress which is open in the front to reveal a decorated stomacher or a buttoned compére, and also to show of the decorated petticoat or trompeuse (a sort of false skirt reminding of an apron in shape). In the back there are pleatings hanging from the shoulders to the floor.

The original dress is made of white linen chintz with blue plant motif (Fukai 2006). My fabric is a thin white cotton with blue print. Though such fabrics is know for being used as upholstery, curtains and other interior elements, I was thrilled to see a similar brown fabric being used for a 1795-1800 dress in the book "The art of dress" . That dress is described as "....an unusual copper-plate-printed cotton dress, made between 1795 and 1800. The closed bodice has a deep square neckline, elbow-lenght sleeves, and an open skirt. It would have been worn with a plain petticoat, a bustle pad (....) and a muslin kerchief loosely knotted in the front. (Ribeiro 1995). A picture can be seen in the gallery.

It looks to me as if there's an opening in the skirt, like a pocket. It means that an embroidered pocket most likely was used underneath. I found a b/w picture of a lovely one from 1780, made of linen and with silk embroideries. Although I have no idea what the original colours were, I loved the pattern, and it also fits the style of the Jouy fabric. My grandmother did a tremendous job with making a replica of the pocket, with the ground fabric being made of solid linen canvas and embroidered with mercerised cotton. She also made another of the same materials, but with the pattern from my folk costume apron.



POCKETS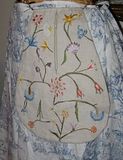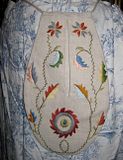 As a curious side note, such pockets are frequently appearing in Norwegian folk costumes, especially in those with roots in the 18.th century. My best guess is that such pockets originally were popular gifts to daughters, wifes and fiancées, maybe bought abroad on a business trip. But these pockets were too precious an item to wear underneath the skirt, so big silver or brass clasps were attached and the pockets hung in the belt, for everyone to see. They were probably also copied and produced at home shortly after.

As for the loose pockets they became a popular feature of Norwegian folk costumes, whether the county had a tradition for it or not. They were therefore incorporated into garbs that might not originally have had it, or the look of the pocket became different (often being made of the same materials as the skirt rather than using the original materials). Patterns were taken from old rosepainted furnitures, embroideried skirt hems and whatever looked most ornamental. So all loose pockets worn today aren't necessairly traces of the original Rococo items, but some certainly are. Lovely examples (as far as I can tell) are the Romerike L40 bunad, some of the ones from Vestfold, Trøndelag (Fosen, Tydal) and Agder (Fossnes). Probably more as well. But this is indeed a parenthesis.



SO FAR
So far I have been mostly following the pattern of Jean Hunnisett - simply because it's better described. The Kyoto one is more of a guideline. I have cut and sewn the bodice, lining being of unbleached cotton and with lacing in the back (allowing the bodice size to be adjusted). The skirt and the back drapes are also finished, and it was quite interesting to finally understand the construction of a sack dress. It wasn't as complicated as I feared, but it's hard to make it look really authentic. I have begun pleating the decorations in front too - I'm soon halfway with the left side, but it takes forever and a day to just finish parts of it. I sometimes wonder whether I'll ever get to finish it.... My determination of recreating it kinda made the whole project stop. I think I might remove the stuff I've done and put on a simpler kind of decoration.

I bought some white metal buttons which I covered with fabric from the dress. The compère of the front bodice is made of pleated fabric, with button holes and button closing. This is seen as the practical development of the ornamental stomacher, which had to be pinned or sewn to the dress every time it was worn.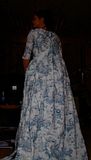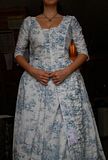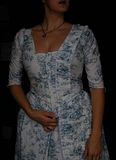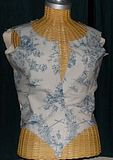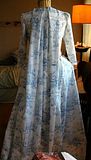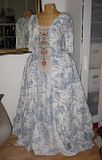 The sleeves are also cut, but need to be decorated with lots of pleats and ribbon. Last, but not least, the jupe (underskirt) is finished, sans decorations. It's quite full, with gathers attached to an offwhite waistband. But the decorations are similar to the ones on the robe, and I fear I'll have to simplify them to ever get to finish the outfit.

I think I need to make proper paniers soon, just to get the silhouette and the shape right. So far I've been using a sort of bum roll, and it works OK, but it gives fullness all around instead of emphasizing the hips (as paniers would do).



REFERENCES:
The original dress at Kyoto Costume Institute
Fossnes, Heidi (1993) "Norske bunader og samiske folkedrakter", J.W. Cappelens Forlag, Oslo
Fukai, Akiko ++ (2006) "Fashion - a history from the 18.th to the 20.th century", Kyoto Costume Institute, Kyoto and Tachen, Köln
Hunnisett, Jean (1991) "Period Costume for Stage & Screen: Patterns for Women's Dress 1500-1800", Player's Press
Ribeiro, Aileen (1995) "The art of dress, Fashion in England and France, 1750-1820", Yale University Press
Riffel, Melanie ++ (2003) "Toile de Jouy - printed textiles in the classic French style", Yale University Press





Back to main site


Copyright © 2001-2016: Anéa