THE 1541 BRONZINO GOWN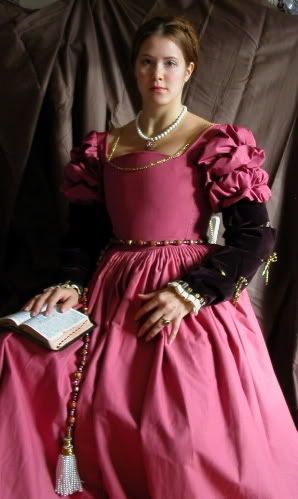 LATEST: Finished except: partlet, hair jewellery, gold jewellery with French inscription, and maybe a new chemise.


THE PORTRAIT
The pendant portrait of Lucrezia Panciatichi was probably painted in 1541. Both her husband Bartolomeo Panciatichi and Bronzino himself joined Accademia degli Umidi in the beginning of 1541 (Brock 2002: 72), and it likely they become acquainted there. Lucrezia's portrait is oil on panel, measures 102 x 85 centimeters, and is today in the care of Galleria degli Uffizi in Florence.

The portrait shows a lady seated in a wooden chair with mascarone faces on the armrest. The background is dark, only illuminated by a niche surrounded by corinthian columns. The dark background makes her skin and dress stand out, appearing close to the viewer. In center is also her gold necklace with French inscription. Depending on which way you read it, it sais "Amore dure sans fin" - love lasts forever. It is assumed this was a gift from her husband, possibly a betrothal or wedding present. Bartolomeo Panciatichi spent his childhood in Lyon in France, where his Italian family was well established, and he also served as a page to Francis I (Brock 2002: 72).

Lucrezia looks as if she were painted with a geometric precision and idealized forms. Her neck is enlonged by a manneristic touch: her oval head appears to have been painted from underneath, while her chest is viewed from above. At first glance this doesn't look abnormal; still one notice that something isn't quite right. The neck is also extra illuminated, being the only smooth white surface in the upper part of the painting, as her shoulders are covered by a metallic partlet. As a result her neck appears to be extraordinary long. Bronzino has managed to play with perspective without sacrificing a realistic approach - making it in fact a rather manneristic portrait.




EVOLUTION IN FLORENTINE FEMALE FASHION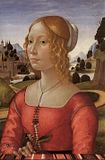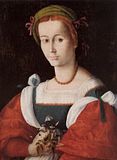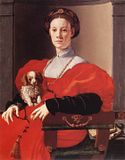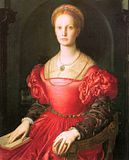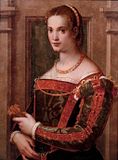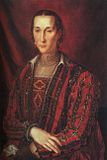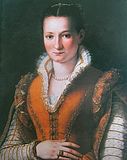 1. Portrait of a girl, 1480's, Ghirlandaio (Clark Art Institute, Massachusetts)
2. Portrait of a woman, 1520's, Bacchiacca (I. S. Gardner Museum, Boston)
3. Portrait of a woman with dog (Maria Salviati?), 1528, Bronzino (Stadelsches Kunstinstitut, Frankfurt)
4. Lucrezia Panciatichi, 1541, Bronzino (Uffizi, Florence)
5. Portrait of a girl, 1560's, Florentine school
6. Eleonora di Toledo, 1560's, Florentine school (after Bronzino), (National Gallery of Art, Washington)
6. Portrait of a woman, 1580's/1590's, A. Allori


Lucrezia's outfit is classic for the Florentine fashion of the era. The waistline, which had been high for decades, now started crawling downwards, eventually ending up in a stiff, cone shaped bodice. The sleeves, which in the 1510's and 1520's had been wide, now started gathering the width in the upper part, forming the big puffed sleeves called baragoni. The skirts are still full and heavy pleated in the waist, but later they became more flared in cut, still with width in the skirt, but smoother over the hips (Arnold 1985: 104).

Lucrezia's dress is one of few Florentine 1540 dresses showing full cartridge pleats attached to the bodice. It appears to have been made of a pinkish red satin, with separate maroon/burgundy lower sleeves under the puffed baragoni. The maroon sleeves are slashed, revealing another pair of tight sleeves; they look black with gold trims, and they're viewable through the slashes and at the cuffs. At the cuffs the pleated/gathered cuff of the chemise is also peeking out. The layers of sleeves suggest an unseen undergown or petticoat, but they're most likely just attached to the inside of the baragoni (Landini 2005: 29).

The balzo of earlier decades are now gone, but it's reflected in her hairstyle. Her head is enlarged by a mazzocchio, a crown of false hair (Landini 2005: 29), possibly with her own hair entwined around it, and with a gold bandeau in front. Further on, she wears an elaborate partlet. It looks like it's made of a fine silk or linen inserted with gold threads, forming fine zig-zag pleats. This is particulary viewable at the shoulder area, where fine gold lines raises above her flesh.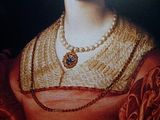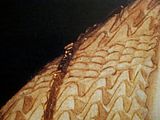 However, "Moda a Firenze" describes it as "(...) linen with numerous pleats running in different directions which had to be reconstructed and starched after every wash" (Landini 2005: 120). Whatever the case, the technique seems to have been common in Florence in the first half of the 1500's, as seen in the hairnet and partlets underneath: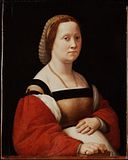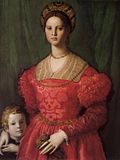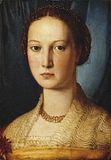 1. Donna Gravida, ca. 1506, Raphael (Palazzo Pitti, Florence)
2. Portrait of a lady in red with a fair haired little boy, ca. 1540, Bronzino (WGA, Washington)
3. Constanza da Sommaia ca. 1540, Bronzino (location unknown)




INSPIRATIONAL PORTRAITS
Though the 1541 Bronzino portrait of Lucrezia Panciatichi has been my main inspirational source for the current versions, I have of course looked at the similar portraits of the era. The overall execution of the painting can been compared to Bronzino's earlier "Lady with dog (Maria Salviati?)" at the Städelschen Kunstinstitut in Frankfurt, as well as his later "Lady in a red dress with fair-haired little boy". They women are all turned the same way, with an attribute in the right arm, and they all wear a red, Florentine dress. "Lady in a red dress with a fair-haired little boy", now in NGA Washington, is considered a contemporary painting to the one of Lucrezia Panciatich (Brock 2002: 93). The portrait is very similar to the Panciatichi one, in both outfit and pose. It was probably even more alike when it was painted, because it was later re-modelled by Bronzino to resemble his dynastic portrait of Eleonora di Toledo with son. The dress got a brocaded pattern, and the boy is also an addition, possible also the dominating girdle (Brock 2002: 93).

Another portrait of interest has been Bacchiacca's Portrait of a woman with a book of music, also from ca. 1540, now in J. Paul Getty Museum in L.A. This dress seems to have the same colour scale, and with fur decos reminding of the sleeves from the "Which Witch" dress (see underneath). But this dress also has trims on bodice and skirt hem, possibly black embroidery, or maybe a cut-out velvet. There's also a fabric girdle rather than a metal one. These two elements points towards slightly earlier Florentine fashion (ca. 1520-1530), and ditto for the slightly shorter bodice, but the overall cut is fashionable for the 1530-1540 decade. A nice transitional dress.

I have also glanced towards an earlier Bronzino portrait, from the late 1520's. Because the lady wears various Medici attributtes (especially the "pyramide" diamond ring, the fleur-de-lis on her chemise collar and the heraldic colours red and green), some researches has concluded the sitter is Maria Salviati, mother of Cosimo I de' Medici. Whatever the case, the dress she wears shows the forerunner of the Lucrezia one, with a shorter bodice, wider upper sleeves not yet puffed, and a hair style even more like the balzo.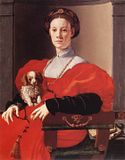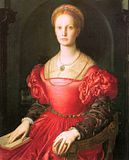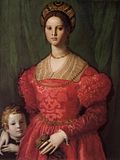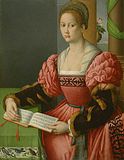 1. Portrait of a woman with dog (Maria Salviati?), Bronzino, ca. 1528
2. Lucrezia Panciatichi, Bronzino, 1541
3. Lucrezia Panciatichi, close-up of the sleeve, Bronzino, ca. 1541
4. Portrait of a lady in red with a fair haired little boy, Bronzino, ca. 1541
5. Portrait of a woman with a book of music, Bacchiacca, ca. 1540




MY DRESS
My dress is meant to be a replica of what Lucrezia Panchiatichi wears in the portrait. I've tried to recreate it as faithfully as possible, but there's been some compromises. Read more about them underneath. I am still working on the partlet and the golden chain, but otherwise the gown is pretty much finished, and I'm very pleased with it. I haven't been able to depict the colour very faithfully in photos - it's more red pink in real life, not as lilac or Barbie pink it appears in photos.

I have actually sewn most of it by hand! The skirt is all by hand, as I didn't have any sewing machine at the time I started working on it. Both visible and invisible seams on the sleeves are hand seams (except for the golden ribbons attached to the black silk of the undersleeve). The long seams attaching the different panels in the bodice are machine seam. First of all because there are a lot of pressure on them, and I needed them to be solid. Secondly because I think machine seam looks better on long seams. But all other details are done by hand.

I started on this dress in 1997, but as I've changed it so much since then (three remodellings), I will only write how I made my current gown. I started out searching for useable patterns. I was inspired by two Tudor patterns from the book "Period Costume for Stage & Screen" (Hunnisett 1991), showing two short and slightly curved bodices. But after studying a bigger version of the portrait, I saw where some of the seams were placed, so I drafted a pattern myself. The sleeves are made using... uhm.. a good portion of imagination...

PICTURE GALLERY (CURRENT VERSION)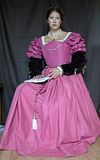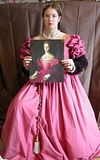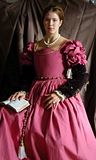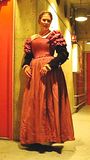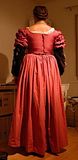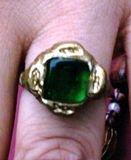 SKIRT
The skirt works very well, but the biggest compromise I made in this project. It is made of a very fine, long fibred cotton, and hence a different fabric than in the bodice. The colours are identical, although the structure is slightly different, so they blend nicely. The skirt is not cut or flared, it's made or two very wide panels (2,20 meters) sewn together. The extra height on top was folded down, making the cartridge pleats in the waist extra full. The two big panels were originally bed linens (.... sic!), and therefore very solid - and they drape so well. I didn't have to line them either, because they are double (self-lined, so to speak). The skirt is cartridge pleated all the way around, sewn directly to the bodice, and closed with a hook and eye in the back.

BODICE
The bodice consists of five parts; one front panel with shoulder straps (equal to the portrait), and two side and back panels. The bodice is lined with two layers of unbleached cotton, and there are made small "pockets" for each strip of boning by sewing vertical seams in the two cotton layers. The bodice is made of silk dupioni, heavy boned in front, and lighter boned in the side and the back. The bodice is closed by five metal hooks.

The bodice has been re-modelled twice; one time to even out the curved/pointed waist, and one time to... adjust it to my slightly... fuller body. I've also changed the position of the shoulder straps and hooks and eyes. The fit is very good (except the hooks in the back are pulling a bit) and also comfortable as it is now, and overall I'm very happy with this dress. If I were to do any new adjustments, it would be to stiffen the back where the hooks and eyes are fastened, as the fabric is really being pulled here. I would also add a snipped hem facing and bodice trim, as seen in the portrait (I didn't quite understand what it was when I first studied the portrait).

JEWELLERY and ACCESSORIES:
The pinkish appendix was a lucky find. It is very similar to the portrait appendix, both is size and details. I have since attached it to a pearl necklace, which I've beaded using fake pearls. Another jewellery I often use with this dress is one of amethyst (sp?) (although not the most expensive sort) which I received from my grandmother. I've always been very fond of it, and use it a lot. I was thrilled to see that there's a pretty similar necklace in a Bronzino from the same era, the 1542 portrait of a girl in lilac holding a book.

The girdle is made of wood beads; some "filigran" decorated with golden threads, some plain, as well as "pearls". As of now I have made a pearl tassel for bottom, inspired by the one Eleonora di Toledo wears in the famous 1545 Bronzino portrait. I have also made a mock ring of "gold" with a green stone. As for the golden hair adornment she's using - it's no hurry as long as I can use something similar. The partlet is a more difficult matter, as I have not been able to detect what kind of technique is used to create the look. I'm thinking gold threads, Moda a Firenze say starched, pleated linen - and both appears too complicated for my liking...

For shoes I am using black velvet Mary Janes, with straps, rounded toe and low heels. They resemble early Renaissance shoes. The chemise I use is the same, ol' thing I use for all my Renaissance outfits. I did make a new one for the Venetian 1560's dress, with nice lace trims, and it might cool to this Bronzino dress. I have to try it out.



FIRST VERSION:
What differs the most on the first version and later re-modellings are the sleeves. They consist of two parts; the pink puffed sleeves and the burgundy sleeves. The burgundy sleeves, a cotton brocade slashed with three horizontal sloaping lines in front, is trimmed with a nice burgundy/white ribbon. It looks really neat when the white undergown is viewable through the slashes. This is inspired by a dress worn in the 1992 West End production of "Which Witch", which was the dress I originally settled for. The bodice is more curved, and the skirt isn't pleated in front. I think it's a really neat dress, but when I saw the similarities between the costume design and the portrait by Bronzino, I wanted to re-model my own dress to resemble the portrait more. Hence the many re-modellings.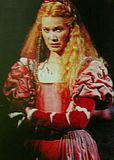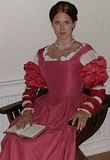 SECOND VERSION
I originally kept the puffed sleeves from the first version, but they were later re-done as well. The skirt also got "tighter" pleats, giving it a richer look closer to the portrait. The main sleeves are made of two parts: upper layer is of plum cotton velvet which is slashed both in front and behind (it looks like the Lucrezia portrait sleeves are made that way). Underneath, black silk sleeves trimmed with golden ribbons are viewable. They are made of a gorgeous opaque black silk, with several rows of golden ribbons sewn on. These striped sleeves are viewable through the slashes and at the cuffs. Where the back and front slashes are almost connected, a golden/black ribbon in the shape of small bows are attached. The end of the bows have ornamental "gold" tips which looks very decorative. This might have had a constructive function of some sort, maybe connecting the slashes. On my dress they're purely decorative, as I couldn't be sure on the exact function of the bows in the portrait.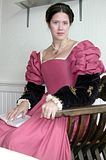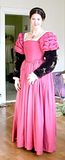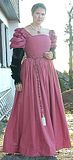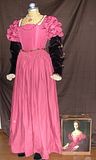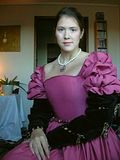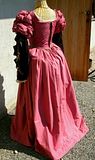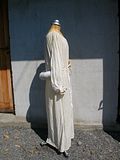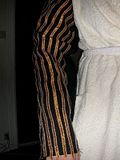 MATERIALS USED
8,80 meters of mercerized cotton sateen (skirt, double layer)
1,2 meters of silk dupioni (bodice)
1 meter of silk dupioni (baragoni/puffed sleeves)
1 meter of burgundy brocade (old sleeves)
1,2 meters of plum cotton velvet (current sleeves)
1 meter of fine black silk (undersleeves)
20 meter of golden poly trim (for black undersleeves)
1 meter of burgundy ribbon (to tie the sleeves to the bodice)
2 meters of white cotton (lining bodice and baragoni)






REFERENCES:
Festive Attyre -portrait gallery
Arnold, Janet (1985) Patterns of Fashion 1560-1620, Macmillan, London
Brock, Maurice (2002) "Bronzino", Flammarion, Paris
Hunnisett, Jean (1991) "Period Costume for Stage & Screen: Patterns for Women's Dress 1500-1800", Player's Press
Landini, Roberta Orsi and Bruna Niccolo (2005) "Moda a Firenze 1540-1580", Edizioni Polistampa, Florence





MY HISTORICAL RENAISSANCE GARBS: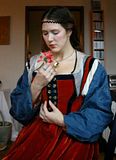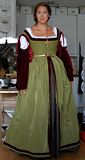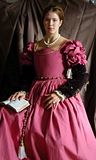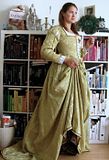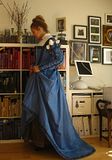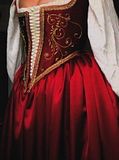 Back to main site
Copyright © 2001-2016: Anéa