COMMISSIONS



I don't usually make costumes for others. Here are the exceptions.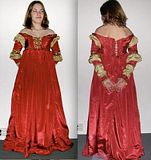 A Christmas present made for my cousin many years ago. I call it the "Juliet dress", because it reminds me of Romeo & Juliet costumes. Today I have people emailing me about my "Borgia dress", as the same style typically appears in Borgia related games and TV series, and people want to make similar garments. The Juliet dress was made of a synthetic raspberry coloured fabric, I cannot remember what anymore, with an accenting golden fabric on the sleeves. The bodice has a faux bodice with lacing in front, to adjust the size. The back also has lacing.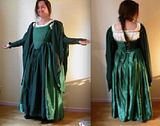 A Renaissance dress made for a LARP interested friend of mine. It's made of a polyester satin, with accenting hanging sleeves and an apron in front. The bodice is boned and laced in the back. I also made her a white chemise to wear underneath. Green because she loves everything Irish.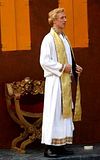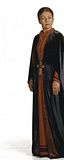 Costumes from a production of the musical "Which Witch" in Western Norway. I didn't make the full outfits, only parts of them. For the priest outfit I made the golden stole, lined with purple and decorated with purple gems and gold tassels. For the "Anna Regina" outfit I made the overdress; of a navy velvet shot with plum, changing colour depending on the light. The costumes were re-used in a community theatre production in Eastern Norway.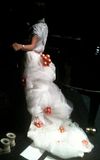 "Cloudberries with cream". As a train. That was the commission. Other than that I was free to make it as I saw fit. Due to the bulky nature of the berries, I drew inspiration from the draped, fluffy bustle dresses of 1870s Paris, especially those depicted by Tissot. 20 meters of white netting was draped over a cotton base. Extra emphasis was put on the "cul", the poof over the butt, and a berry was put on top. Various other berries were spread around the train. The train is tied in the waist.



Back to main site
Copyright © 2001-2016: Anéa