ELDER RENAISSANCE DRESSES





THE JULIET GOWN:
I have always associated this costume with "Romeo and Juliet", so I refer to it as the "Juliet costume". I made it in 2001, as a Christmas present for my lovely cousin Gro. I didn't finish it in time for Christmas, but I gave it anyway. The idea was that I was going to stay with my family for a week or two, and finish it then. But although I worked a little on it every now and then, I didn't get to finish it. And suddenly it was summer 2003... Me and my unfinished projects... I thought I had made the dress very adjustable with lacing both in front and the back, because my cousin was/is growing. But I forgot that things like the shoulder area and the sleeves could eventually become to small. So I altered the size a little, enlarging the sleeves and shoulders.

The front bodice is "double" - meaning there are two layers; one decorated with ribbons, the other one is like a waistcoat, laced over the ribbons. Not sure how historical correct it is, but it looks nice and allows the garb to be extremely adjustable. I have not boned the bodice, but I've sewn several layers of fabric, so it's still kind of stiff. The neck lining is trimmed with a golden pleated fabric (same material as used in sleeves). The skirt is pleated all the way around, and there are no train. It is attached quite high in the waist. The sleeves are made out of golden and burgundy fabric, and trimmed with the burgundy ribbon. I have also cut the edge of the ribbon to get a narrow trim here and there. A cool effect! As I meant this gown to be a theatrical costume, one are able to use it without any chemise underneath (it wouldn't be viewable anyway), but a chemise would "build" the dress a little more. I doubt I'll ever get around to make one, though....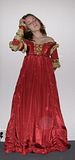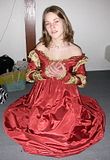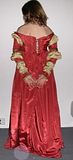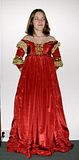 THE VECELLIO DRESS:
This gown is my own design, and the fifth costume I made. I found this wonderful blue/golden fabric, and I immediately thought of a medieval/renaissance gown. Because it was so little left (around 2 metres), I thought I had to give it up. But as I left the shop it struck me that I could make a bodice and sleeves of that fabric, and the skirt of another material. Not very common, and a little Ren Faire-ish, but there are historical examples of that phenomenon (some spotted in Vecellio's costume book). So in I went again and bought it, together with a somehow matching blue fabric for the skirt. Although they are rather different, the floral pattern has somewhat the same expression, and the blue tone is very similar.

The bodice is boned with rigilene, and with lacing in the back. The lacing is made out of two metres of shoe lacing. One metre were used to make small loops in eack side in the back, the other one is simply used for lacing. The sleeves are quite tight fitted, made of two pieces and laced together with a fine silver thread. The sleeves are also slightly curved at the cuffs, and the edges are made rounder by piping. The skirt is heavy pleated in the waist, so I get a full skirt. It has a short train in the back. It is attached quite high in the waist, so that one get this gothic feeling. I was very satisfied with this dress, and used it on several occations in a Medieval faire in Oslo. Of course, to call this a Medieval gown is wrong. But it isn't entirely Renaissance either. But as Norway never really experienced a Renaissance (I know, I know....), I've mostly used it at Medieval faires.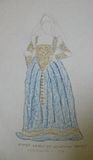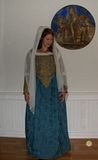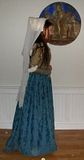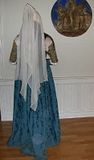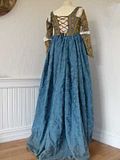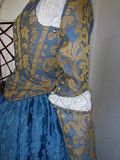 THE GREEN JENNY COSTUME:
I will be the first to admit that this gown is a mixture of the Renaissance and Medieval.... For a very specific reason.

Me and some friend has been attending an annual Medieval fair in Oslo, me and my friend Jenny started talking about how fun it would be to be able to dress up properly for this occation. I already had my blue Vecellio gown, so we decided to make an outfit for her. Because of her hang up for Irish culture, plus her beautiful green eyes, we decided that the dress had to be green. She wanted a velvet gown, but as I had velvet fobia at the time (don't ask.... I'm getting better), it had to be a more silky material. Sorry Jenny! We visited most of Oslo's Pakistani fabric shops, and found many beautiful alternaltives. The two we in the end settled for were one silky green, plus one sparkling dark green (almost black), made of cotton. The dark cotton were for lining, as well as contrasting details. The dress is inspired by Vecellio's "Young Married Woman of the Norwegian Nobility" - no. 280. The dress is a mixture of Renaissance and Medieval - quite typical for Norwegian 16.th century fashion. There are wide hanging sleeves, (Medieval), but also pointed waist and square neck lining (Renaissance). We didn't go for the fur lined underskirt, though... Not sure how historical correct that is - I suspect it's more of a result of Vecellio's idea of us northerners...

The bodice is heavy boned and padded in front. It has a quite square neck lining, trimmed with a sequence decorated green ribbon. The front is pointed, while the sides and the back are straight. I have made a lacing solution in the back. At first, I sew on tons of small hooks, but eventually, we found out that it is nice to be able to adjust the size, plus: the lacing looks better. And the hooks and eyes were impractical to deal with. I wanted to try something new, so I decided the sleeves should be reversible, with one silky green side and one dark green side. I did this by using the "bagging out" method, and the result was neat. the sleeves were only attached to the bodice by a small piece of trim ribbon in green/white, for two reasons: 1. to be able to reverse the sleeve by bagging it, and 2. to allow the chemise to be viewable underneath. The chemise is made the same way as my own chemise (used under the Raphael and Bronzino dresses), except for the sleeves. They are wide instead of gathered in a cuff. Also, the material is different. While mine is made of cream cotton, I made Jenny's chemise of a more shimmering material in white. This looked much better together with the green colour in the gown.

I have to admit I am a lazy person. So when I found a quite matching green shirt from another sewing project of mine, I decided to use this to Jenny's dress instead of making a new one... But it fits very well! It has no train, but it is slightly shorter in front than behind.

The first version of this dress worked out fine, but I wasn't too satisfied with it. I therefore borrowed it for a while to alter it. One of the first things I did, was to add lacing in the back instead of hooks (described above). The other thing I did was to make the bodice more corset like, by sewing several vertical seams on the bodice's sides and in the back. It gave a much cooler effect. And one creative night I decided to make some dramatic sleeves to make it closer to the vecellio one. With the idea being just in my head, I used a pencil to draw on the remaining fabric, to make a pattern. I decided that the inside should be silky, while the outside should have the dark green cotton - to make it contrast the dress. I also added a removeable dark green "apron" in front. I also had to attach a metal chain in the back, because the new sleeves are extremely heavy...

With this changes the dress became so much cooler and also more period looking. As a funs ide note, the dress was borrowed to a local production of the musical "Which Witch", for the heroine Maria Vittoria! As I am extremely fond of this musical, I'm very, very proud!!!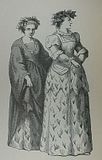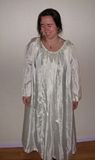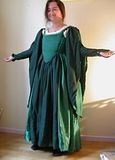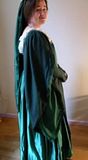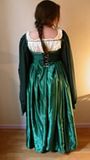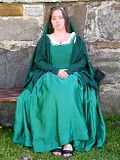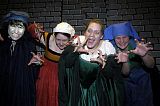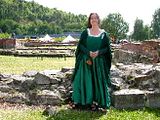 THE RED ELIZABETHIAN DRESS

This red Renaissance dress is made of some fabric my grandmother was about to throw away. I didn't have any sewing projects at the time (!), so I decided to make something of this red cotton fabric. Of course, I saw right away that it wasn't nearly enough for a full dress, but I thought it easy to find a similar fabric for the skirt. I was VERY wrong...

I started with the sleeves, making them of a quite square cut strip of fabric and filling the openings with plain white cotton. The area around the "slashes" was trimmed with pearls and a golden thread. I was really content with the result, so I started on the bodice. It is long and narrow, made out of 6 panels, and the front is boned and very pointed. It's also trimmed with the golden thread used on sleeves, in a rather plain but decorative pattern. The back of the bodice has lacing for closure, and is quite adjustable. Until this day I've never found any fabric for the skirt even remotely similar, even though I've been looking for it for years. So in the end I settled with another fabric - one which was the same colour, but much more shiny - a sort of poly tafetta, I think. I just couldn't stand the thought of having yet another unfinished project in my closet. The skirt is made of three panels, and forms a short train in the back. The back and sides are pleated, while the front is rather plain. It looked best that way because of the pointed bodice. The skirt needs a bumroll underneath to achieve the bell shape seen above.

The whole gown is my own design, but I have to admit I watched quite a lot of "Black Adder" those days. And I've seen later that Queenie's nanny have a dress with sleeves and neck line not too unlike my red gown... Still, this has not been an attempt to copy any particular costume or make an authentic Elizabethian or Tudor outfit. This dress was eventually sold on eBay.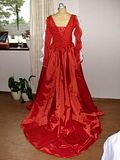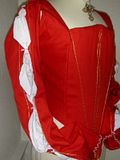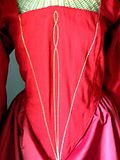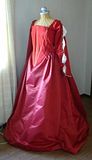 Back to main site
Copyright © 2001-2016: Anéa