MODA ROMANA



WHAT
A dress in the Roman style, as worn between 1540 and 1570.




PORTRAITS OF WOMEN IN THE REGION OF LAZIO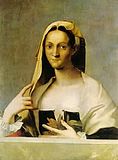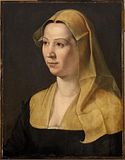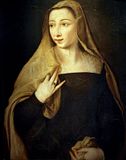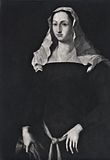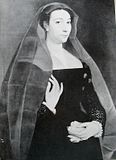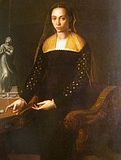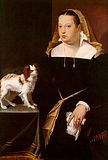 1. Portrait of a Woman (previously known as Vittoria Colonna), 1550s? (Galleria Colonna, Rome)
2. The only reference I have of this is "Florentine school", but I suspect that is not correct
3. Portrait of Vittoria Farnese 1548, Tiziano and/or his workshop (Szépművészeti Múzeum)
4. Portrait of Vittoria Farnese, 1540's, Jacopino del Conte (Villa Borghese, Rome)
4. Portrait of a Lady", 1550's (?), Roman school (in a private collection in Paris)
6. Portrait of Ortensia de' Bardi or Giulia de' Medici, 1559, Alessandro Allori (Uffizi, Florence)
7. Portrait of a Lady with Dog, ca. 1570, Bartolomeo Passerotti (Cassa di Risparmio, Cesena)






WHY
Portraits of Roman women from this period has often - mistakenly - been labeled as widows or novices. Main reason is that they almost always is depicted in black or dark dresses, with little or no jewelry, and a large veil on their head. In other city states in the Italic peninsula this type of attire might indicate widowhood. In the Holy City it seems to rather have been a way for women to dress with modesty, not flashing their female beauty or earthly vanity more than necessary.

I started researching this style when living in Rome in 2008. Studying art history, we visited a lot of palaces, churches and museums. The lack of portraits of mundane Roman women from the 16th century was glaring, at least when compared to cities like Florence and Venice. But on the other hand it relates well to Rome's general population. The city had a large number of male inhabitants, men who could never marry because of their devotion to the church. These men would technically not have wives or daughters, and hence the need for portraits of noblewomen would be lesser in Rome than elsewhere. However, one Roman noblewoman was well documented in portraits - Vittoria Farnese, granddaughter of pope Paul III Farnese. There exist at least two well knows portraits of her; one in Villa Borghese in Rome, and one in Szépmüvészeti Museum in Budapest. I saw the former during my stay in Rome, and the style intrigud me. I knew she was probably betrothed but not married when depicted, and there were no obvious reasons for mourning in her family. I started wondering whether the outfit DID indicate mourning. The lady is dressed in a black or dark dress in both portraits, she wears no jewelry, apart from a gold ring, and she wears a large, golden veil on her head. It also looks like she wears a fabric girdle. I wanted to learn more.

I was thrilled to find a reference to this veil in period sources. The book "Moda a Firenze - Lo stile di Eleonora di Toledo e a sua influenza" describes how the duchess to follow Eleonora di Toledo was perceived as obsessed with luxury and acting without decorum. One of the courtiers writes in the 1580s:



"And she adorns herself with finery and vanity more than ever, and even this morning decided to go to Mass all decked out and with a golden veil on her head in the Roman style" (Landini 2005:39).



Another references to the specific Roman style can be found in a period document from 1575. A Paduan father writes to his daughter when she and the children is about to move to Rome, and he mentions how to dress:



"You will need to dress them according to the custom here. I would advice you to not dress them in the Paduan way, and here they do not wear silk either, except for sarsenet in the summer. This is my opinion" (Sperone Speroni, quoted in Fashion: Critical and Primary Sources, Volume 1, page 433).



This seems to confirm my hypothesis of a muted fashion adorned by the golden veil. And when visiting all the monuments in Rome this style seemed to be repeated in the few depiction I could find of mundane women. Black, dark green or navy dresses, large golden veil, fastened at the crown and lightly draped around the wearer, and a distinct lack of jewelry. I saw it in donor portraits and in frescoes, and tried to document it as best I could. When I came home I found a few more portraits, and put together a gallery. The overall cut of the dresses in the region of Lazio appears to correspond with the style used in neighbor region Tuscany. The necklines are square and wide, with the straps set far out. The bodices are narrow and/or conically shapening the torso, and the skirts are bell shaped. There are no obvious openings in the front, while several period depictions shows side/back lacing. This too correspond with fashion in Tuscany.



SOME PHOTOS I TOOK DURING MY TRIP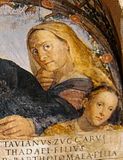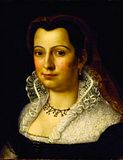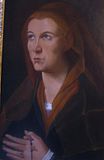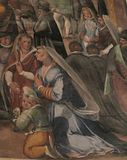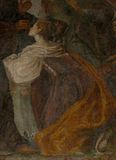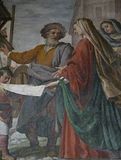 Sorry for the sparse reference on these. Many were taken when running through a museum on our way to our field of study, so I just had to do snapshots and find eventual info afterwards. Often there weren't too much info to find, neither in situ or online. But the little I found is in the file name. Not all of these shows golden veils or black dresses, I just wanted to add the various dress details I saw.





HOW
Because the overall dress construction in Lazio seems to correspond with that in Tuscany, I used a famous Florentine pattern as basis for my dress in Roman style. The pattern is the funeral dress of Eleonora di Toledo, from when she was buried in 1562. This was a dress worn in life, as it was modern in cut and the hem showed signs of wear and tear. It's thought this dress was one of the last she commissioned from court tailor Master Agostino; a white satin dress with velvet guards in dark brown and gold. This dress has a bodice made of two parts, a front and a back laced together at the side/back, plus a bell shaped skirt with train. There were no signs of sleeves for this dress.

A dress of similar cut, made of crimson velvet, is on display in Palazzo Reale in Pisa. This dress is thought to have been made by Master Agostino and/or his workshop as well, as the cut is almost identical to the funeral dress. The crimson dress also has sleeves. The general patterns for these two dresses has been drafted by Thessy Schoenholzer Nicholson, while a more detailed pattern for Eleonora's funeral dress has been published by Janet Arnold. I glanced at both when cutting my dress.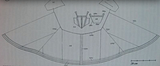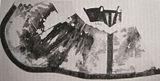 The surviving Tuscan court dresses from 1560; the crimson Pisa dress and the Florentine funeral dress of Eleonora di Toledo. The first two sketches are by researcher Thessy Schoenholzer Nicholson, the thirs is a photo of how Eleonora's funeral dress looks on display in Palazzo Pitti in Florence. These two dresses are nearly identical in cut, and judging from depictions it's also how dresses in Lazio were typically constructed.



As period sources only mention stays towards the end of the 16th century I don't wear one for my Italian dresses. I do, however, bone the actual dress bodices. Period constructions involved lining, interlining, felt for padding and the fancy fabric. Usually all layers was of the same colours, to avoid colour bleeding. Sometimes the bodices were supported further; "Moda a Firenze" mentions "cardboard (in) a typically Spanish system" (Landini 2005: 88pp), while reports on the funeral dress of Giulia Varano mentions a layer of linen stiffened with animal glue. As historical cardboard often was made of linen fibers and animal glue, I suspect it's was a kind of cardboard they used in Giulia Varano's dress as well.

But what is "Spanish system"? No-one knows. They might have used strips of cardboard similar to modern boning, or they might have used whole pieces. They might have fused it together with the wool felt, or as a separate piece. So stiffening my dress bodice with cardboard was mostly guesswork and might not be how they made it at all.

I cut the main shapes of the bodice in black cotton,and a double layer of each. I then cut black wool felt into the same shape, and stitched this together with one of the cotton layers. Next was to cut the linen cardboard into the same shape. This was sandwiched between the two cotton layers. The cardboard was way too stiff and thick to be sewn in, so I stitched the cotton layers together, holding the cardboard in place. I then added the black velvet over this stiff frame, on top of the black wool felt. The sides has a strip of fabric only, no cardboard, so metal eyelets could be inserted. The eyelets were bound with a thick, black thread, to secure the eyelets and to better let them blend with the velvet.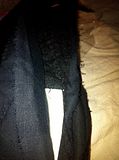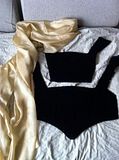 My bodice is made up of cotton, linen cardboard, wool felt, cotton and cotton velvet. There is a front and a back, laced together at the sides.



The skirt was cut in both black velvet and black polyester. The pattern suggests two panels in front, two in the back, and two triangles at each side. Since my fabrics was broad, I used one panel in front and one in the back, but two triangles at the sides to get the right shape. The velvet and the polyester was sewn separately and then attached together, with raw seams towards eachother. I think I prefer this kind of bag lining to the flat lining I've done previously. The biggest benefit is that the inside looks very neat and that I can hik up the skirt, but also that there are no raw seams to deal with. The last dress I made after this pattern was gathered both in front and back. This dress has gathers in the back and pleats in the front, attached to the bodice with small stitches both on the inside and outside.

The sleeves are made of a cutwork fabric. It was cutworked when I bought it, but brown. I dyed it black to match the dress. Cutwork sleeves seems to have been almost non-existant Florence, but with a certain popularity in Venice and in Rome around 1560. Rules to how large and much cutwork could be added to a fabric did exist; Cosimo de' Medici made laws both in 1546, 1558 and 1562 regulating what and how people in Tuscany was allowed to dress. The 1558 laws mentioned cutwork - it was only allowed in fabrics if the cutwork was straight and geometrical and not too artful. The rules were not as strict on ribbons and trims (Landini 2005: 176pp). But this was in Tuscany. There seem to have been few restriction on cutwork in Rome. So whereas the dresses in Rome and Lazio was on the plainer side, cutwork sleeves are quite a common sight in portraits.

The sleeves for my dress are very basic in the construction, cut in one piece, a bit wider at the top and with a rounded sleevecap. The seam is a French seam, to make it sturdier. It's not lined, to allow the white chemise to peak through. They're tied to the shoulders of the bodice with black ribbon. The inspiration for these sleeves came from the portraits of Giulia de' Medici/Ortensia de' Bardi (1559) and of a Roman lady (1550s).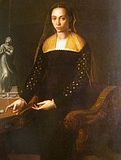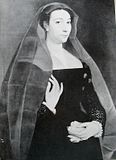 Cutwork sleeves in Roman outfits



I used pure silk for the veil, a thin China silk which draped very well. Speaking of which, I had probems with attaching it. It's a mystery to me how they managed to attach it. The most obvious solutions seems to be the balzo, the ring of fabric, hair and/or other materials at the back of the head. But this went out of fashion in the 1540s, and the veil stays put after this as well. I made my hair into a knot in the back, but put a long pin through the hair to pierce the veil so it stayed in place. It worked OK, but was not ideal as it didn't lay well over they forehead. It drapes really well in the portraits, so I have to try various methods to find out how they might have done it. But using five meters, attaching the middle in the hair, and the ends in the front of the dress looked very cool. I've seen similar versions in portraits, except they attach the ends further down. Italian women seemed to have endless ways of wearing a veil, especially how and where they attached the ends. They could be hiked up under the girdle, in the front bodice, hanging loose, decorated with tassels, made into a knot... I took inspiration from two woodcuts from Cesare Vecellio's costume book from ca. 1590, showing how Paduan women used a large, square piece of fabric at the back of their head (two last images). I attached the ends of my fabric up like in that second woodcut, but because my veil was so long I had to attach it at bodice front instead of bodice point.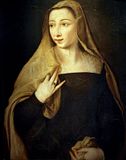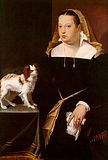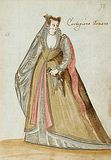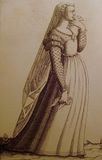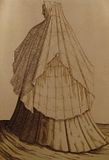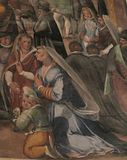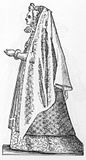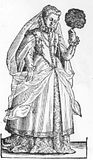 Various ways of draping a veil in Rome and in Padua.





WHEN
My Roman dress was first made and worn in 2012, some five years after I started researching the style. Originally I planned on using linen and silk for lining, and expensive cotton velvet for the outer fabric. But I've never had the funds for this, and it ended up delaying the project dramatically. So in the end I went for medium quality cotton velvet, and cotton and polyester for the lining. I still needed around 16 meters of fabric, so it wasn't a cheap project. But cheaper than originally planned. I did buy expensive wool felt and linen cardboard for bodice stiffening, though, as the bodice construcion was an experiment and I couldn't risk cheaper materials to ruin it.

The dress premiered at our art history professor's Saturnalia party in December 2012. For that party I dresses up 7 of my fellow students, in various Florentine and Venetian dresses, and it was such a lovely sight. Alas the sleeves for my own dress wasn't finished, but people went gaga over the veil. They really liked it. Next time I wear the dress I will try a balzo or a larger crown of hair in the back, so the veil can be pinned to that. I think it'll look more like the portraits that way. But it was so cool to move around with it flowing around me, it felt feminine and pretty. The golden silk towards the black velvet was also a rich and cool contrast. So all in all I'm loving my Roman dress and I'm looking forward to take photos of it with the cutwork sleeves.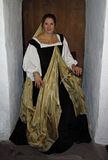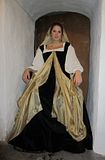 Me wearing the dress at Saturnalia 2012.





A last word: I'm not saying every well-to-do woman in Rome dressed in a black dress and wore a golden veil in the mid 16th century. Just like today there are variations as to how people dress and why. But the dominant fashion seems to have been that. And it's that fashion I wanted to recreate. Everyone meant I looked like a painting when I wore the dress, but the suggestions was in large Baroque - Vermeer, Velasquez, Rubens and Caravaggio. The consensus seemed to be that 16th century dresses were colourful and detailed and with extravagant hair, like what my fellow students wore at Saturnalia. Which was an interesting observation, because it's correct for most of Italy and also large parts of Europe. It's also why I thought it was interesting to explore the Roman style.





REFERENCES:
Festive Attyre -portrait gallery
Arnold, Janet (1985) Patterns of Fashion 1560-1620, Macmillan, London
Landini, Roberta Orsi and Bruna Niccolo (2005) "Moda a Firenze 1540-1580", Edizioni Polistampa, Florence



Back to main site



Copyright © 2001-2016: Anéa