HANNIBAL WRISTBANDS




HOW TO MAKE WRISTBANDS
In many "Phantom of the Opera" productions the ballet dancers wear wristbands illuding elaborate gold jewellery. This is also valid for Carlotta and the princesses. Some stage wristbands seems to be made of a leather (either synthetic or real) painted golden, and with various "gems" and decorations attached. Others are made of various fabrics, also with "gems" attached. Some are closed with velcro, some with snap buttons, and some even seem to have elastic band in the back, so the wristbands are only slipped over the hand.

There are productions who don't use them at all (mostly in Europe), which I think is a pity. It adds a finishing touch to the costume, and it's also present in the costume design. I made mine out of plain cotton covered with black watered silk, and layers of gold on top. The shape is based on the Canadian and Australian versions. They have a square field in front, over a straight "band". Other productions, amongs Hamburg and Las Vegas, had the same straight "bands", but had a round shape in front instead of the square one. I think (but don't quote me on it) that they used both shapes in Sweden.


STAGE EXAMPLES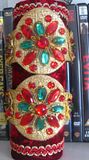 Authentic Hamburg wristbands. Thanks a bunch to owner Bryan for the first photo! The second pair is one in my possession.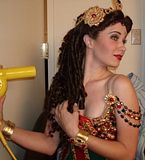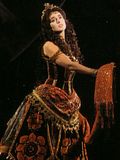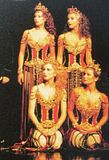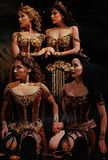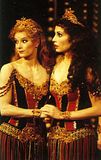 1. Sierra Boggess, Las Vegas
2. Rebecca Caine, Canada
3. Slave girls, Sweden
4. Slave girls, Australia
5. Janine Kitzen, Stuttgart
6. Anna Maria Kaufmann, Hamburg




THE FIRST VERSION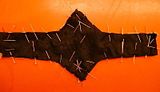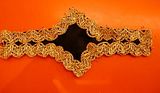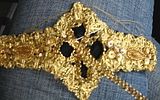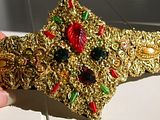 STEP 1
Make a pattern in paper or a cheap fabric, adjusting it to your hand. Save this pattern for step 2. Cut four layers of plain cotton (or another solid fabric) in your desired shape, using the pattern. The length should be the measure of your wrist, plus an inch ( 2-3 cm) or so for overlapping, for the closing patent. Whipstitch two layers together, with the raw seams facing eachother. This will give you a sturdy base.

STEP 2
Cut a layer of a sturdy (but not thick) black fabric, and whipstitch it to the white cotton foundation, folding the ends in. The black layer will make the gold look richer than what a bright layer would do. I used a sort of watery black silk which reminded of paper silk or silk dupioni. This added extra sturdiness to the wristbands.

STEP 3
Use a rich, antique-looking golden ribbon to "trim" the outline of the fabric cuff. The best result will be achieved if the ribbon is medium thick, ornamental and a bit see-through, allowing the black fabric to show. But try out different ones and see what gives the best effect.

STEP 4
Add an even richer looking golden ribbon on top, in the small "gap" between the outlines of the other one. Leave the middle field open. I used a trim with beads and sequences, which gave a rich and 3D look.

STEP 5
Add a small golden trim to the middle field. Form small "loops" where various gems can be attached. I used a looped ribbon which bends easily and is easy to form and sew down. The same ribbon was used for the Elissa "spears", the long tabs on the skirt, and is one of my favourite items to work with.

STEP 6
Add a closing patent to the back. Velcro can be used, ditto for snap buttons.

STEP 7
Attach various gems, beads and eventual sequences, not only on the "loops" in the middle fields, but also on the outer golden trim. I stuck to the colour scheme red/green/gold, and added large "gems" in the middle, and smaller pipe beads at the sides. Et voila! You got a nice set of flashy cuffs which looks surprisingly convincing. And best of all, this method works very well for the collar and belt of the Hannibal slavegirl bodice.

MATERIALS USED FOR THE FIRST VERSION
*White unbleached cotton from IKEA
*Black watery silk
*Semi-wide golden trim
*Highly ornamental, beaded golden trim
*Narrow golden trim
*Red and green "gems"
*Red and green tube-shaped beads
*Snap-button
*And of course sewing thread.




THE SECOND VERSION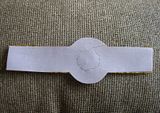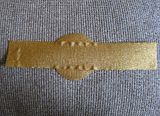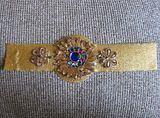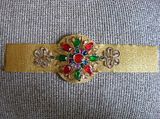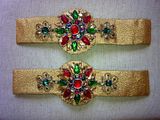 I've also made another pair, based on two extant versions from Hamburg. It was constructed a bit differently than the ones above. It has a core of iron-on-buckram, and a golden lurex ribbon was ironed on (important to put a plain cotton fabric on top when ironing, bcause the lurex will melt in direct contact with the iron... yes, I tried that). A large, round appliqué was sewn on the round center, and two smaller ones at the side - after the model of the Hamburg ones. Lots of red and green gems were sewn on, and the inside of the wristbands were lined with a semi thick green twill (the original Hamburg ones has a thin, black felt). They're closed by one large snap button.

MATERIALS USED FOR THE SECOND VERSION
*Iron-on buckram
*Broad golden lurex ribbon
*Green twill
*Red and green gems
*Two large golden appliqués
*Four small golden appliqués
*Large snap buttons




MY PHANTOM COSTUME REPLICAS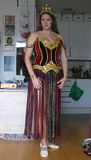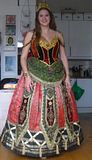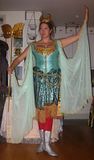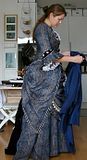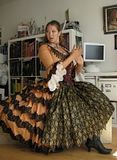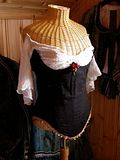 Back to main site
Copyright © 2001-2016: Anéa