UNDERLAYERS & ACCESSORIES






To get the complete look - and also to be able to mix and match and get fully functional attires - I've worked a lot on the underlayers. For a regular middle/upper class attire, a lady would wear a shift (camicia), a petticoat, a main gown (sottana) and maybe an overgown (veste or zimarra). She would also usually wear a partlet, some sort of head covering or head ornament, shoes, stockings with garters, and jewelry. Some ladies also wore a stomach band to gather the width of the camicia. Here's a short overview of the camicias, petticoats and accessories of my Italian 16th century wardrobe.



CAMICIAS
The Italian word "camicia" means a shirt, but it's used in a wider context than today's front-buttoned garbs with collars. Basically, a camicia is the white, washable garb used under an outer garb. Whereas dresses, overcoats, doublets, mantels, corsets, hats, trousers and doublets were the work of the tailor, linen items was often the work of the household (Arnold 2008: 5). Many inventory lists shows linen garbs listed as "fatta in casa" - made in the house (Brown 2004: 112), and this was probably a suitable activity for the ladies of the house, who wasn't expected to participate in the activites of the outdoor world. There are of course exceptions; Eleonora di Toledo and the Medici court had their linen items made by nuns specialised on such work (Landini 2005: 126). And for the stuff made at home, a regular upper or middle class household probably had a seamstress to do this work, maybe with the addition of an embroiderer.

Today, one of the most common way to make a Renaissance chemise is to make a wide, white garb with full sleeves, and adjust the neck opening with a drawstring. This allows the opening to be adjusted to various dresses and wearers, and therefore it sounds like a good period way of doing it as well. However, there are few indications suggesting this was how it ws done in the Renaissance, at least not in Italian camicias. The most common construction was to use six square pieces - two long ones for front and back bodice, two large rectangular ones for sleeves, and two small rectangular ones for gussets under the sleeves. A square neckline bound it together. I've made camicias both with a square neckline and with an elastic band, and I must admit I much prefer the former. It stays in place.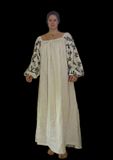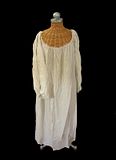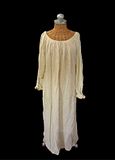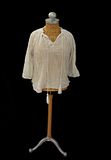 1. A camicia is loosely based on an extant one at The Met in NYC. It has embroidered sleeves with alternating pomegranate/acorn/vine motifs and rose/pansy/fleur-de-lis motifs. This one is all handsewn and made of 100 years old linen, and it's a dream to wear. My grandmother did the embroidery on the sleeves, and she did a fantastic job.
2. This camicia follows the same pattern as the embroidered one, but is made of a thicker linen, and the sleeves has drawstrings.
3. This one has elastic band in the neck opening, and buttons at the cuff, and it's made of a thin gauze cotton.
4. This is of the same model, albeit shorter and wider, and made by a friend.
5. The last one is a store bought blouse of thin cotton, with a drawstring with large tassels.



PETTICOATS
Petticoats are essential in the Italian wardrobe. Though split skirts in the gown wasn't as common as in for example England, there are lot of examples from period paintings showing the overskirt draped up in various ways, to display a petticoat of a different colour and often a decorated hem. The hems were stiffened, with for example wool felt and a tuck, so it functioned as a mini crinoline.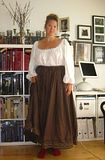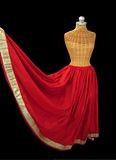 1. Purplish brown sateen underskirt with a golden embroidered hem. The hem is stiffened with wool felt.
2. Underskirt with pleated hem. Scored it for $25 at a theatre costume sale, and I love it!
3. Red cotton petticoat with a broad gold trim at the hem. This skirt is very, very wide.




ACCESSORIES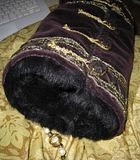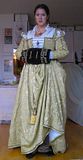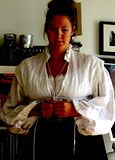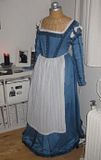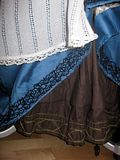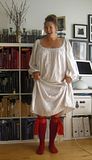 1. + 2. "Pavonazzo" velveteen muff lined with black fake fur. It's decorated with gold ribbons, and buttoned.
3. Partlet with a small pleated collar.
4. Apron of a square piece of fabric gathered and sewn to a waistband.
5. The apron has a decorative lace trim on the lower edge .
6. Red knitted wool stockings, with red "silk" garters. They are trimmed with hand braided trim, and tied twice around the leg.




JEWELRY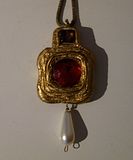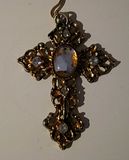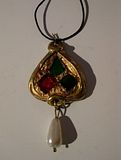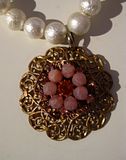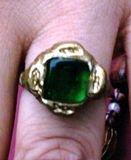 1. Gold filigran pendant with green and red gems, and a drop shaped pearl.
2. Square gold pendant with red and green gems, and a drop shaped pearl, made for the Unicorn dress.
3. Golden cross with "crystal" gems.
4. Heart shaped golden pendant with red and green gems, and a drop shaped pearl, made for the Maddalena Doni dress.
5. Golden filgran pendant with pink stones, attached to a pearl necklace. Worn with the pink Bronzino dress.
6. Golden ring with green "gem", worn with the pink Bronzino dress.




GIRDLES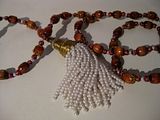 1. Girdle of "coins", pearls and golden beads, with a golden tassel.
2. Girdle made of wooden beads and pearls, with a pearl tassel. Worn with the pink Bronzino dress.




LOOSE POCKETS
Loose pockets - saccoccias - were used by both working women and nobility. But they were often used under the main gown, accessed by a slit in the skirt. Unlike their Rococo equivalents they don't seen to have been worn in pair, but rather just one individual pocket at one side. They were usually decorated, with couching, with trims, or with embroidery. The main shape was an oval with a vertical slit, but I've also seen square ones.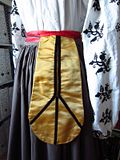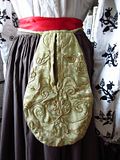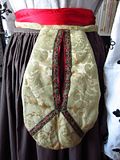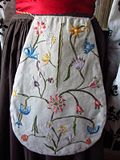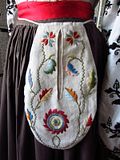 1. A saccoccia of mustard silk and black velvet ribbons, copy of one from an Allori painting, ca. 1595.
2. A saccoccia of golden green brocade, couched with gold cord. Inspired by one in Museo del Traje in Spain.
3. A saccoccia of the same fabric as the couched one, but trims in the style of the Allori one.
4. An embroidered pocket, copy of one in America from ca. 1780.
5. An embroidered pocket, worn with my folk costume. Pattern is lifted from the apron of the outfit.




STOMACHERS
Though stomachers were worn in the 16th century, they were more popular in England than in Italy. The selection here is not really for my 16th century attires, rather for Rococo and stage costumes. But they're added to this section because they also existed in the 16th century, and because I have a plan of gathering all accessories in one place.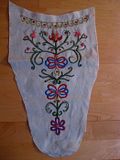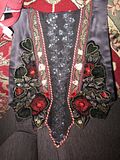 1. An embroidered stomacher loosely based on one from ca. 1720, seen in the book Vintage Textiles.
2. An embroidered stomacher with a fantasy pattern. I let my grandmother decide the colours of this one. So delicate!
3. Richly decorated stomacher of silks, ribbons and sequins, worn with the Aminta costume.



REFERENCES:

Arnold, Janet and Jenny Tiramani + Santina M. Levey (2008) "Patterns of Fashion 4: The cut and construction of linen shirts, smocks, neckwear, headwear and accessories for men and women", MacMillan, London
Brown, Patricia Fortini (2004) "Private Lives in Renaissance Venice", Yale Univerity Press, New Haven and London
Frick, Carole Collier (2002) "Dressing Renaissance Florence: Families, Fortunes and Fine Clothing", John Hopkins University Press
Herald, Jacqueline (1981) "Renaissance Dress in Italy 1400-1500", Bell & Hyman, London
Landini, Roberta Orsi and Bruna Niccoli (2005) "Moda a Firenze 1540-1580. Lo stile di Eleonora di Toledo a la sua influenza", Edizioni Polistampa, Florence







Back to main site

Copyright © 2001-2016: Anéa