THE BLUE WISHING DRESS




LATEST:: Started on a new bodice. The current one looks god, but isn't comfortable to wear any more...





HISTORY
As so many others I have this as my favourite Christine costume. The "Wishing" gown, or the blue dress, which Christine wears in parts of the second act is most featured during the heartbreaking "Wishing you were somehow here again". It is also the only "civil" day dress she wears in the show. I simply love the shape and details, and I'm also quite taken by how such an extravagant dress can give a casual "jeans feeling", much due to the colour. Maybe that's why it appeals so much to us modern people?

The blue "Wishing" gown was my dream for a long time. And when I attended the movie "I'm Dina" as an extra and saw all the wonderful Victorian costumes they used I got highly inspired. I'd been planning to make the Wishing gown for years, but I never really did anything about it, beside searching for the right fabric for ages. Eventually I gave up, because there aren't many stripy/floral blue fabrics out there - at least not affordable ones. And definitely not any with the luxurious touch of the stage costumes. The blue silk used in the stage costumes isn't unique for POTO. I've seen the exact same one being used in the Forsyte Saga (blue) and in "Dangerous Liaisons" (golden). It's made by a little workshop in England - but I don't even dare think of the price....

In January 2003, my beloved mother died, far too young. One of the worst things we had to do was to go through her stuff and clean her apartment. While I was removing her curtains, I got the song "Wishing you were somehow here again" from Phantom into my head. At first, I just thought it was because of the lyrics. And it probably was. But it struck me the curtains was a reason as well. They were heavy, solid and a little shiny, with a paisley/flower pattern and stripes. And in an amazing blue/lilac color. It was exactly how I imagined the "Wishing" fabric, except for some broad green/yellow stripes. It may seem like a wierd thing, thinking of a costume when one's mother is dead. But one's mind is a strange path.






INSPIRATION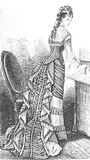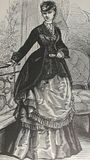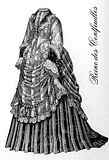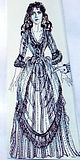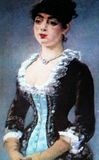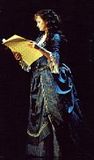 1. to 3. Victorian fashion plates, from between 1870 and 1885.
4. Maria Bjørnson's design for the Wishing dress, ca. 1986.
5. I have lost all references for this one....
6. Maria Bjørnson's design for the dress with cloak, as worn in the graveyard scene, ca. 1986.
7. Susanne Elmark in Copenhagen 2000.
8. Zoë Curlett i England ca. 2000.
9. Sarah Brightman at the roof of Palais Garnier, ca. 1986.



The next months I searched the web for tips, patterns, pictures and useful info. I actually couldn't find too much on the web at the time, other than pictures and hints of other replicas in making. Good closeups, patterns, instructions? Nothing. But from the search I got a quite clear idea of what I wanted. All the research actually made me make this WISHING GOWN GALLERY, which hopefully will make the journey easier for others. I went for the European versions for my own replica, as I was and am crazy about the costumes used in Copenhagen. Also, there was this picture of Sarah Brightman on the Opera House roof in Paris which I found most gorgeous. I must admit my pattern is very simpified compared to the original, especially seams of the bodice, but the overall look of the gown shows what I aimed for.

The dress is now basically finished, as seen in the pictures above. It took me nearly two years to make it - but that may give a wrong picture of the actual work.... I didn't on it every day - or every week for that matter. When I didn't feel qualified to continue, I put it away - sometimes for several weeks - until I felt ready to go on. I'm glad I did, because in the process I was invited backstage at the Danish production of "Phantom of the Opera", and I got to see both old and new versions of the costumes used by Christine and Carlotta. That helped me more than I can say. Thanks Viktoria, for your kind and generous heart.

As stated, my replica is meant to copy the classic European versions, with a draped chevron apron, a decorated faux vest in front, full pleated cuffs with lace, a broad waterfall backdrape and navy velvet ribbon over white trims.

If I were to do something different today, it would be to use more panels for the bodice, because it gives a better fit and makes adjustments easier. The bodice is now a bit tight over the bust, even though I've tried to remodel it twice. I would also use another fabric that velvet for the back drapes. It looks cool, but it's heavy and drags the skirt down a bit in the back. Still, this was my first grand costume project, and I'm rather fond of the dress, with or without its flaws.





THE FIRST FUMBLING STEPS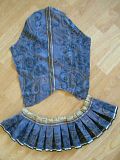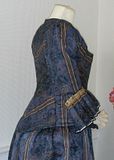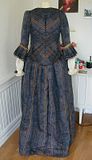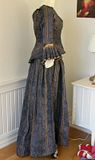 1. The blue fabric had wide yellow stripes. I folded the fabric and sewed it down to hide them.
2. The sleeve and pleated cuff before assembled.
3. Panels for the right side of the bodice.
4. Just sewn together.
5. The bodice front sans the faux velvet vest and decorations.
6. The bodice and skirt from the back. The bodice is three straight panels pleated to a waistband.
7. The bodice and skirt from the side.




I had never sewn anything non-Renaissance at this point. Therefore I used the methods I knew of, including using straight panels for the skirt, only gathered at the waist, and using few and fairly straight panels for the bodice too. However, this doesn't give the tailored, curved look of the 19th century. Rather, it gives the more cone shape of the 16th century. I realized this too late. As for the skirt, it doesn't matter. It is full and nice. But I've struggled with the bodice ever since, having remodeled it twice. Still, it was my first project of this kind, and I was immensely happy with it back then.

One thing I'm still happy about, though, is the use of stripes. I got to study one of the dresses used in Copenhagen, and it showed how the stripes of the fabric was vertical in the bottom, but gradually turned V shaped towards the top. This is due to how the fabric is pleated in to form the waterfall drapes. I wanted to continue this V shape in the back of the bodice, which I think is a cool feature. The same V shape is repeated in the front, continuing into the chevron apron. The sides of the dress has vertical stripes, both in side bodice and sleeves.

The bodice closes in front with small hooks and eyes. I've added a modesty panel underneath to avoid an eventual gap, and on top there are mock buttons. The skirt with drapes sewn to it closes in center back, with large hooks and eyes. I've added several eyes, so the skirt can be adjusted in the waist.

Many different trims has been used for this dress. The main trims are a white, broad trim with looped edges, placed under a narrower navy velvet ribbon. This combination was used on bodice, sleeves, apron, paniers and backdrapes. A beige pompon trim was used on the reverse side on the backdrapes, as well as the apron. A handmade white tattle trim was used to outline the velvet cuffs and collar. I also added a narrow, gathered lace in the neck opening, mimicking a chemise underneath, and a broad white lace on the sleeves, under the cuffs.




GETTING THERE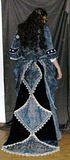 1. The main shape of the paniers (side drapes). If I were to make new ones, I would make them less curved in the bottom.
2. Draping the apron. A long story of trying and failing...
3. The backdrape just assembled. I lined it with navy velvet. Looks super cool, but it's very heavy.
4. The backdrape after a few adjustments. I stitched the two sides together.
5. Me wearing the dress sometime in 2005.
6. Making a cloak. Never finished it, as I ran out of fabric for the hood.

AS GOOD AS FINISHED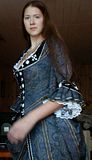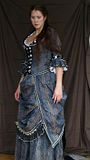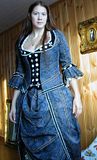 1. I tried to compensate for the straight bodice by making the faux vest curved. Worked OK.
2. Closeup of the appliquées used.
3. Trims used. This is very close to what was used in UK versions of the dress, with navy velvet over white.
4. The dress back in 2007. It fit well then.
5. I wanted a white tassel trim for apron and backdrapes, but couldn't find any. Found a beige pompon one, but ran out of it..
6. The pompons were added to the velvet side, and the navy and white trims on the brocade side.
7. Full view of the dress. The colour changes between lilac and intense blue, depending on the light. Nice fabric.
8. The bodice has always been a bit strained over the bust and shoulders, as this picture shows.
9. Got a hold of more beige pompon trim for the apron. Apron, paniers and backdrape was later sewn to the same waistband as the skirt.
10. A better view of the white lace engageants at the sleeves. They're a tad longer than the pleated cuffs.
WEARING THE DRESS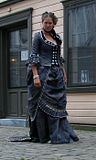 1. Wearing the dress at the Norwegian premiere of the 2004 "Phantom of the Opera" movie.
2. Joined by a fantastic Phantom and "Masquerade" guests.
3. Wearing the dress at the reenactment faire "Kjæmpestaden" in 2004.
4. Ditto. In desperate need of a proper underskirt and/or bustle...
THE MOST RECENT PICTURES OF THE DRESS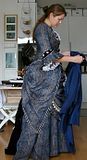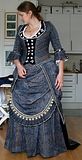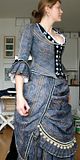 The dress is still dear to me. However, I can see now everything I did wrong back then, and the bodice just doesn't fit well any more. Or rather, it fits too well, giving me boobs of doom. I don't think it suits the dress. So I've started making a new bodice of the scraps from the original cutting. And I have a treasure in my possession - an authentic Wishing dress, used in Hamburg in the early 90's. The amazing thing about this costume is that it almost fits me. Which means I can use that bodice pattern as a basis for other bodices. And so I drafted a pattern from the Hamburg original and dug out the scraps.

There are lots of panels in the Hamburg bodice. 12 in total, each three layers (two cotton layers, one with the blue fabric). It has boning both in between the cotton layers, and in fabric-covered metal bones stitched to the seams. In total I had to cut out 36 pieces; 3 of each panel. Lots of cutting! I then ironed all pieces and started sewing channels for the boning. The upper layer was then pinned to the boned layers, and everything was pinned together. Current status is that everything is sewn together, and seems to fit well. The feeling of getting a tailor-made piece (although the tailor is me, he-he...) is wonderful. I've tried to copy the amazing seamwork of the Hamburg one as best as I could, especially the lines in the back. It looks very good, albeit not quite at the level of the Hamburg one.

What remains is to sew all seams and iron them. And then either bind or zig-zag them. I need to do a final fitting so everything fits just as it should, and I also need to cut and sew the sleeves. And then there's the false vest and decorations. Not sure if I'll use the cuffs from the current bodice, or make brand new ones. I'm rather fond of the existing cuffs, but the actual sleeves needs to be replaced. Oooh, and I want a big, fluffy bow in the back. The Hamburg one is made over stiff netting, which gives helps maintain the shape. Might consider to the same. More to come... In the mean time, here's pictures of the in-progress bodice: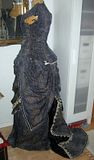 1. The panels for the new bodice.
2. New bodice with old skirt/drapes.
3. Closeup of the back of the the new bodice. The cut is a copy of the Hamburg bodice.
4. The Hamburg bodice. Note how (pun intended) seamless the continuation of the stripes and flower ranks are.






MATERIALS USED
*Blue, stripy fabric: around 12 metres
*Navy blue velvet: around 3 metres
*White unbleached cotton for lining: around 2 metres
*Blue velvet trim: 7, 25 metres
*While lace ribbon: 7, 25 metres
*Beige tassel ribbon: 3 metres
*Laces at cuff: 2 metres in total
*Lace at necklining: 2 metres
*Tattles at collat and cuffs: 2, 20 metres
*Appliquées: 40 in total *Hooks and eyes in front: 10 in total


I didn't use a specific patter for my Wishing gown replica, because I'm just no good with patterns. But if you are, I recommend Truly Victorian - one of the best websites for Victorian patterns and inspiration. Different from commerical patterns (won't mention names...), the Truly Victorian patterns allows enough fabric to make the look authentic, and their patterns are well drafted.








MY PHANTOM COSTUME REPLICAS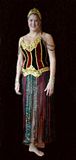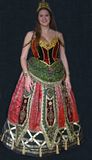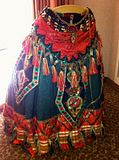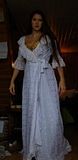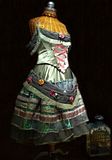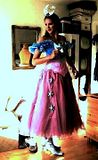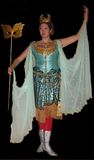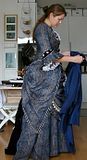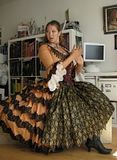 Back to main site
Copyright � 2001-2016: Anéa